News
Twenty one Honduran women save their lives in the past four months thanks to the implementation of the ESM-UTB hydrostatic balloon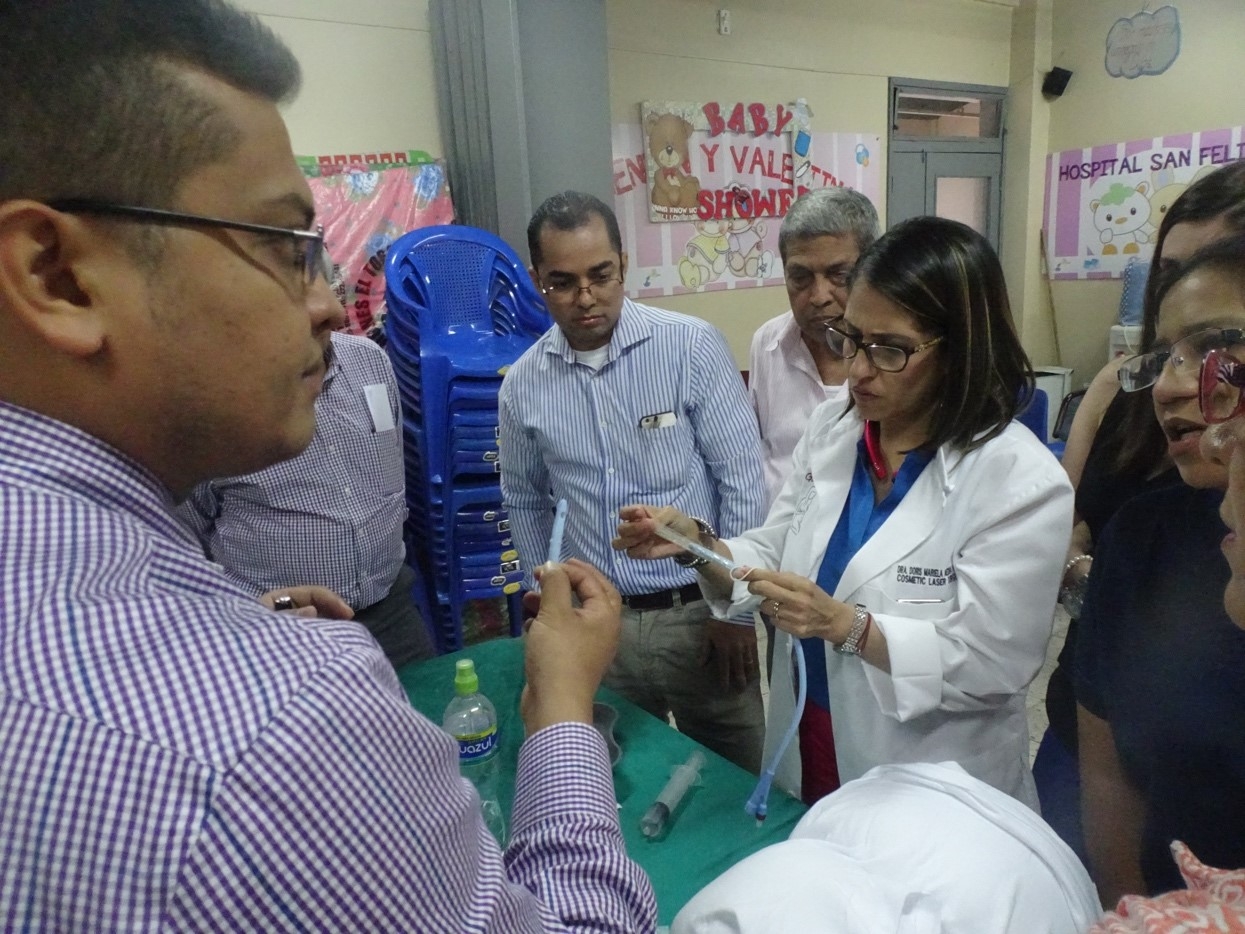 The San Felipe Hospital (Tegucigalpa) medical team trains on the use of the ESM-UTB hydrostatic balloon kit. This was the first team to apply this technique on July 21, 2017
Tegucigalpa -October 2017-Doctor Paola Matamoros, doctor Carlos Ochoa and his team at the San Felipe Hospital (Tegucigalpa) began to normally assist a delivery last July 21. It was ten at night. The woman, aged 37, delivered her child normally. Everything seemed to be normal until four in the morning when the mother began to bleed. She was quickly taken to the operating theatre, where an IV was placed and a blood transfusion was prepared. The hemorrhage didn't stop and the woman began to lose consciousness. Doctor Paola Matamoros and his team decided to apply a medical innovation they had just received and for which they had been trained just 24 hours before: the ESM-UTB hydrostatic balloon. The woman stopped bleeding just a few minutes after the balloon was applied to her uterus. Not only did it save her life, but it also avoided a hysterectomy that would have prevented her from having more children in the future.
Since that July 21 night until late October of this year, the ESM-UTB hydrostatic balloon has already saved the lives of twenty one Honduran women that suffered severe hemorrhages during delivery. Six of them were also able to avoid a hysterectomy.
The ESM-UTB hydrostatic balloon, costs only five Dollars and it is a new and cost-effective version of the intrauterine balloon technique. It consists of a previously prepared emergency kit, comprising a condom, a catheter, and a small syringe to fill the condom with water inside the uterus. It is called "Every Second Counts. Uterine Balloon Tamponade" or ESM-UTB. The kit may be applied by health personnel at any level and has already been successfully tested in 115 communities in India, Nepal, Zambia, Tanzania, South Sudan, Kenya, Senegal and Sierra Leone. Prior experience has shown that the balloon has saved the lives of 100% of the women with mild or moderate hemorrhage during delivery, and of 86% of women in advance stages of shock, according to the pioneer of this system, Doctor Thomas Burke from the Massachusetts General Hospital.
In 2015, 1,344 women died in Latin America due to hemorrhages during delivery. Worldwide, this figure reached 83,125 cases, according to data from Global Health Data Exchange.
After learning about the scientific efficacy of this Project, the Salud Mesoamérica Initiative invited Doctor Burke to provide support in the implementation of this kit in Honduras to lower maternal death rates due to hemorrhage in this country. In 2015, 108 Honduran women died due to complications at the time of delivery or during pregnancy. At least 33 of these cases took place due to postpartum hemorrhages, according to Doctor Elvia Ardón, Director General for Normalization at the Honduras Health Service.
On July 2017, the Salud Mesoamérica Initiative and Doctor Thomas Burke's team from the Massachusetts General Hospital donated 500 ESM-UTB kits to the Honduras Health Service. Over 80 of these were distributed to six hospitals throughout the country. Some 330 health professionals from eleven health centers have also been trained in the use of this instrument: Leonardo Martinez Hospital in San Pedro Sula; Mario Catarino Rivas in San Pedro Sula; University School Hospital; San Felipe Hospital; San Francisco General Hospital in Olancho; Western General Hospital in Copán; Santa Teresa General Hospital in Comayagua; Southern General Hospital; San Marcos de Ocotepeque Basic General Hospital; Enrique Aguilar Serrato Basic Hospital in la Esperanza; Roberto Suazo Córdoba Hospital in La Paz.
More Information
Outreach & Communications Office
Iniciativa Salud Mesoamérica 2015
contact@sm2015.org
+1 202 623 3045