Objetives
Contribute to reduce maternal, neonatal and child morbidity and mortality in the poorest municipalities in Chiapas through a comprehensive health care strategy that improves access, quality and use of health services.
USD 2,585,906

Inversión ISM

USD 3,878,857

Inversión Ministerio Salud Mexico

0

Tramo de desempeño por objetivos cumplidos

1,063,759 citizens: 143 children under 5 years and 270,000 women in child-bearing age.

September 17th 2012 – March 17th 2014
Mexico

Regiones donde opera la
iniciativa Salud Mesoamerica
San Cristóbal de las Casas, Palenque, Ocosingo and Pichucalco.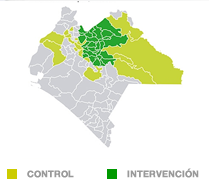 Doctors in Chiapas explain how they have reduced the rates of maternal death